May 7, 2017
St. Stanislaus concludes 125th anniversary celebration with Mass, dinner
REGIONAL
Story and photos by Stephen Kiltonic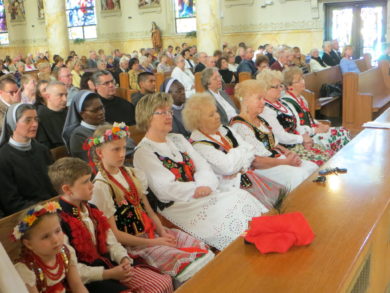 CHICOPEE – On May 6, St. Stanislaus Bishop and Martyr Parish, here, ended a year-long celebration of its 125th anniversary with a Mass of Thanksgiving concelebrated by Springfield Bishop Mitchell T. Rozanski; Conventual Franciscan Father James McCurry, and minister provincial of Our Lady of Angels Province; and Conventual Franciscan Father Joseph Benicewicz, pastor of St. Stanislaus Bishop and Martyr Basilica Parish.
The Mass was the culmination of numerous events that were held throughout the anniversary year including a parish picnic held at Szot Park last summer; an Advent concert held in the basilica; a parish bazaar; a multi-cultural fair; and the appearance of the Maximilian Kolbe relic last summer.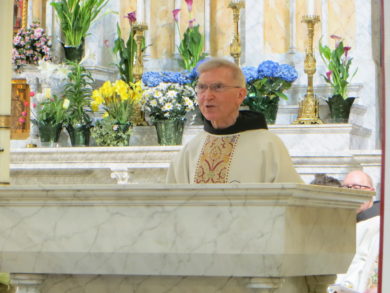 In his homily, Father McCurry detailed a history of the parish telling the congregation of the Polish immigrants who first came to Chicopee during the 1880s. He explained how the early clergy traveled, some on horseback, from Webster, Massachusetts, which was part of the Springfield Diocese then, to minister to the needs of the growing Polish community, many of whom worked it the local textile mills in Chicopee and Holyoke.
The Franciscans started to serve the Polish community in 1901. When St. Stanislaus Church was constructed in 1908, it was the largest church for Roman Catholic Polish immigrants in the United States.   
"This exists as a church, a basilica, a parish, because for generation after generation, God made a promise," said Father McCurry. "Those Polish immigrants who came to Chicopee didn't know what they faced in this land and they relied on the promise of God, the promise of their faith that their community, this flock of sheep from Poland, would thrive and pass the faith on to a new generation," Father McCurry said. "125 years later, there are people sitting in this church who today who are the direct descendants of those first Polish immigrants. You see how the faith has been passed on. The promise has been kept."  
Father McCurry said that the parish now embraces not only those descendants of those first Polish immigrants, but new generations of many nationalities. "It blended and integrated with new generations, new waves of immigrants and here we're living testimony to the vitality of church as an integrated community from many different ethnic backgrounds," Father McCurry said.
In his comments, Bishop Rozanski congratulated not only the Franciscan friars who have served the parish for 115 years, but also the Franciscan Sisters of St. Joseph, the Franciscan Missionary Sisters of Assisi and all the different sodalities and societies who are "the lifeblood of this parish."
"What a joy it is to share in this wonderful celebration with you, to give thanks to God to the blessings that he has bestowed upon those who came from Poland to these new shores in the United States. God brought them together, drawn together by a common language, a common heritage, a common faith and a common vision that what they had in Poland, all the good that they celebrated, that they brought here with them, including the bedrock of their faith that guided them through the Atlantic Ocean to these shores," said Bishop Rozanski.
He concluded, wishing the congregation a long and prosperous life saying "Sto Lat, sto lat, niech zyja, zyja nam" (translated as hundred years, hundred years, let us live, let us live).
Following the Mass, a dinner was held at the Castle of Knights in Chicopee.
A longer version of St. Stanislaus 125th anniversary will air on an upcoming edition of "Real to Reel," which airs Saturday evenings at 7on WWLP TV-22 News.