April 19, 2017
PFHS partners with Chicopee Adapt to offer drug awareness program May 10
REGIONAL
Staff report
CHICOPEE – Pope Francis High School, a faith-based college preparatory school serving grades 9-12, announced that it has partnered with the City of Chicopee Health Department's Alcohol and Drug Awareness Prevention Team (ADAPT) to host a community event entitled "Drugs: Streets to Schools" on Wednesday, May 10 from 6 to 8 p.m. at the school, located at 134 Springfield St., here. The program's presenter, Eric Stratton (pictured at right), is a local paramedic and specialist in teaching drug education to parents.
"Eric's presentation covers the types of drugs currently on our streets, how youth and teens hide them, how they make them with household items right under our noses, how to recognize physical symptoms in our kids, where they are learning how to make certain drugs, and more," said Lisa Steinbock, a graduate of Holyoke Catholic High School and public health nurse for the city of Chicopee. "It's an amazing presentation, one of the best I have ever attended."
Stratton, who has been actively involved in EMS since May 1990, has worked for both private and hospital-based ambulance services in western Massachusetts and Connecticut. He is currently a firefighter and paramedic for Fire District No. 1 in South Hadley and owner and president of STS Consulting Inc., a consulting company specializing in tactical EMS, officer down rescue techniques, and drug education. Before working in fire services, he spent 18 years with the Hampden County Sheriff's Department.
"Today's parents need to be aware of the variety of drugs that are available to school-aged children," said Stratton. "These drugs span from the illegal drugs that we are aware of to the abuse of prescription drugs and the synthetic drugs that are available through the mail. This program seeks to educate parents and guardians on the drugs, and paraphernalia used to create, cook or conceal these drugs from the parents. A variety of drug packaging material, tools to administer drugs and methods of concealment will be on display to help educate attendees at the lecture."
ADAPT was created in 2016 when Steinbock was charged by Chicopee mayor Richard Kos to develop a plan to better serve the public regarding drug awareness and prevention. She met with Karen Turmel, the director of nursing for Chicopee Public Schools (CPS) to roll out the program. ADAPT now collaborates with CPS, Boys and Girls Club, Project Purple through the CPS Athletic Department, SADD, Student Council, Council on Aging, and more.
"We have the full support of Mayor Kos, the Chicopee City Council, School Committee and Board of Health Commissioner," said Steinbock. "Additionally, I collaborate with the Chicopee Police and Fire departments, the Hampden County District Attorney's Office and many other agencies on a regular basis to make ADAPT a realistic, sustainable, evidence-based program. I'm very proud of our progress."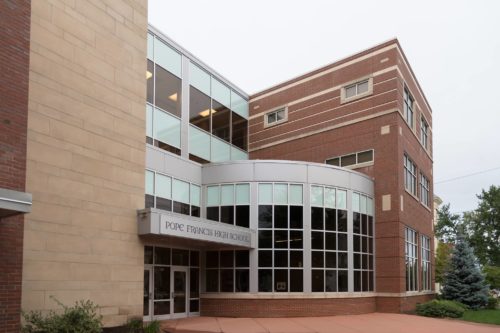 The program at Pope Francis High School on May 10 will be open to Pope Francis parents and the general public. This is an adult-only event, but babysitting will be available. It will wrap up a two-month long Wellness Series sponsored by the school, which also included an American Red Cross Blood Drive, health fair, District Attorney Anthony Gulluni's Impaired Driving and Education Program Public Service Announcement Challenge, and a Substance Abuse Prevention Initiative T-shirt design contest.
 "I was introduced to Eric Stratton's presentation at a fall workshop on the opioid epidemic," said Leslie Perreault, a health instructor at Pope Francis High School. "The materials, websites, and actual drug paraphernalia he shared were eye-opening to me both as a parent and a teacher. We encourage parents to attend to learn more about the types of drugs their children may be exposed to."
For more information about Pope Francis High School, visit popefrancishigh.org.