April 18, 2017
Newman Center to hold '24 Hours of Mercy' April 21-22
REGIONAL
Staff report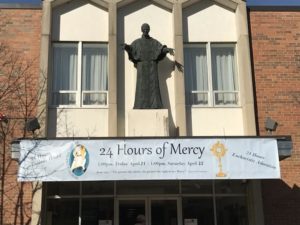 AMHERST – On April 21 and 22, the Newman Catholic Center on the campus of the University of Massachusetts Amherst will host "24 Hours of Mercy," an opportunity to experience God's love and mercy through spiritual exercises especially for these 24 hours.
The program will focus on a 24-hour time duration for students, community members and guests to come to the Newman Center for reflection, prayer, and an opportunity for quiet and confession. 
From 1 p.m. on April 21 through 1 p.m. on April 22, Our Lady Seat of Wisdom Chapel at the Newman Center will be open. Mass will be celebrated on April 21 at 12:15 p.m., and on April 22 at 9 a.m. Eucharistic adoration will be observed for the 24 hours and the sacrament of reconciliation will be available. Priests of the Diocese of Springfield will be present to hear confessions throughout the 24-hour period.
Father Gary Dailey, executive director of the Newman Center, explained that the "24 Hours of Mercy" was spawned from the 2015-16 worldwide Jubilee Year of Mercy designated by Pope Francis, which highlighted themes of mercy, forgiveness and solidarity.
The April 21-22 event at the Newman Center was planned to precede the celebration of Divine Mercy Sunday, April 23, which marks the revelations of St. Faustina. 
"This is a wonderful opportunity for experiencing God's graces and mercy and for healing through the sacrament," said Father Dailey. "I would invite everyone to join us at any time during that 24 hours and find respite and God's love especially here at Newman."
This opportunity for solace, prayer and confession is open to all. For more information, please visit the Newman Center website at www.newmanumass.org or call the secretary at 413-549-0300.