April 18, 2017
Diocesan native Matt Weber honored by Christopher Awards
REGIONAL
Staff report
SPRINGFIELD- March 2017 will be a month to remember for East Longmeadow native and Cathedral High School alumnus Matthew Weber. 
On March 8, Weber and his wife, Nell, welcomed their daughter Rose MacKinnon Weber into the world. Then, later in the month, he learned that he was among a select group of authors chosen to receive a Christopher Award for his book Operating on Faith.
The 68th Annual Christopher Award winners in movies, television and books were announced March 28 by the Christophers, who established the awards in 1949 to honor to honor writers, producers, directors, authors and illustrators whose work "affirms the highest values of the human spirit." The Christophers' motto, taken from the ancient Chinese proverb "It's better to light one candle than to curse the darkness," guides the organization's awards, publishing and radio initiatives.
Operating on Faith chronicles Weber and his wife, Nell, as a newly married couple, overcoming obstacles after a medical emergency results in a third of Weber's stomach being removed. His painful and slow recovery were not how they planned to spend their first year of marriage. The book is a love story, an illustration of Weber's struggles with faith, and a powerful story of hope for everyone who's ever had their plans and expectations upset by life's events.
"I'm honored to be recognized by the Christopher Awards," said Weber. "This book is dedicated to my wife, Nell, who lived up to our wedding vows and stayed by my side, literally though sickness and health. Our story is an example of how faith can still flourish in the depths of doubt and in the darkest of times. Love still exists."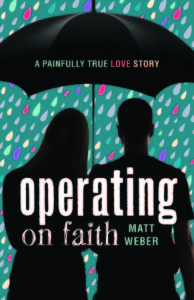 Called the "voice of a new generation of Catholics" by CBS News, Weber published his first book, Fearing the Stigmata, in 2012 (Loyola Press). The book explored the challenges and joys of young Catholics living out their faith.
In addition to his work as an author, Weber is host of the popular CatholicTV Network series, "The Lens," which examines trending digital and social topics from a faith perspective. Outside of his work to make the Catholic faith accessible and relevant to today's generation, Weber also directs digital communications strategy for the Harvard Graduate School of Education.
Weber is the son of John and Peggy Weber. Peggy Weber is the recently retired longtime and award-winning writer and producer for Catholic Communications.
"It was wonderful to hear about the Christopher Award for Matthew's book. I love Operating on Faith and am glad that others appreciate Matt's wit and wisdom in this inspiring book. It also is a beautiful tribute to his wonderful wife, Nell, and a sweet love story," Peggy Weber told iObserve. 
Writing talent runs in the Weber family. Two years ago, Matt's sister, Kerry, won a Christopher Award for her book, Mercy in the City.
Their proud mother credits their Catholic faith and education with their success. "Both Kerry and Matthew received a love for the written word and God from their fine Catholic education. It is great to see it blossom," she said.
The 2017 Christopher Award winners will be honored during a ceremony on May 16, 2017 in New York City.