April 15, 2017
Annual Easter basket blessing at Feeding Hills parish
REGIONAL
By Sharon Roulier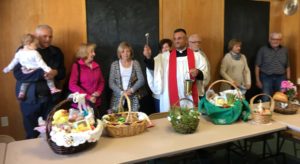 FEEDING HILLS — The annual Blessing of the Food at Sacred Heart Parish Center in the Feeding Hills section of Agawam sparked fond memories of family traditions, as people came to get their Easter food and baskets blessed on Holy Saturday.
Ninety-year-old Julia Kozikowski and her daughter, Julie Adamski, brought their food in a woven willow basket that was made by Kozikowski's father, John Woishnis, who lived on Poplar Street in Feeding Hills, more than 100 years ago.
"Every year we use the same basket to bring our food to be blessed in," said Adamski.
In their basket they included colored hard-boiled eggs, butter, kielbasa, Polish babka bread, cheese and homemade horseradish.
"It reminds us of the old days, when we were growing up, we were always doing this," said Kozikowski. "I want to carry that tradition on to the children."  
Traditionally a Polish custom known as Swieconka, the baskets are often lined with linens or sprigs of boxwood.
The foods in the baskets have a symbolic meaning:
Eggs – symbolize life and Christ's resurrection
Bread – symbolic of Jesus
Lamb – represents Christ
Salt – represents purification
Horseradish – symbolic of the bitter sacrifice of Christ
Ham – symbolic of great joy and abundance.
Cheese – symbolic of the moderation Christians should have at all times
Butter – this dairy product is often shaped into a lamb or a cross. It's a reminder of the good will of Christ, which Christians should live by.
Father Ronald Sadlowski started the annual tradition at Sacred Heart Parish when he was pastor there. Father Steven Amo, the current pastor, said he believes it is an important tradition to keep alive, regardless of one's ethnicity.
"I like all that. You have to keep it up and alive and you have to teach it to your children. Because when you stop, that's when they disappear," he said.
Typically baskets are filled with many of the foods that Catholics had abstained from during the Season of Lent, said Father Amo.
"In the old days, people had to fast every day during Lent. So they not only couldn't eat meat but they couldn't eat dairy products. It was very, very strict. So that's why when Easter came, you had a break. Finally," Father Amo added.
"After 40 days, now they could have them again. It was a really big celebration," he said.
"We didn't have parsley, for something bitter, so I used hydrangeas," said parishioner Debbie Valliere, who came to the blessing of the food with her aunt, Marion Lachut. In her basket there was a lamb, a loaf of Polish babka, eggs, horseradish, farmer's cheese, salt, and a bottle of wine.
"Years ago the priests used to come to the house and bless the food for each parishioner," recalled Lachut. "And as the parish spread out they made a gathering at the church."
Lining Valliere's basket was a very special hand crafted kitchen towel made by her late parents, Theodore and Genevieve Bulewich, who had been parishioners of Our Lady of the Rosary Parish in Springfield.
"When my parents first got married, in the 1930s, there was no TV or entertainment, really, maybe radio. So they would sit and embroider," she said.
"It's one of the last memories that I have. So they are always in the basket with me. We try to remember everybody from the past."