April 13, 2017
Bishop Rozanski celebrates Holy Thursday liturgy
REGIONAL
Story and photos by Julie Beaulieu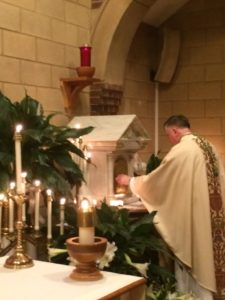 SPRINGFIELD – Springfield Bishop Mitchell T. Rozanski began the Easter Triduum celebrating a Holy Thursday Mass this evening at St. Michael's Cathedral in Springfield. Holy Thursday commemorates the Last Supper, the day on which Christ instituted the Holy Eucharist and the priesthood.
In his homily, Bishop Rozanski told a story from his youth, recalling when his father took him to Patterson Park in Baltimore, Maryland, to see President Kennedy arrive by helicopter.
"I never realized the significance of that day, of that event," said Bishop Rozanski. "That the president had come to my city, and that he had come to visit to make a speech. I was too caught up in the amount of the people there, and the helicopter, and the noise and the roar of the crowd as they cheered for him," he said.
"In a sense, when I think of Holy Thursday, and the Apostles who gathered with Jesus for that last supper, I think that, perhaps too, they could not fully comprehend what was going on, what was happening, as Jesus turned that Passover meal, something that was part of their ritual, something that was ingrained into them, as he turned it into something totally different. Did they realize what was happening? Did they comprehend what Jesus was doing?" Bishop Rozanski asked.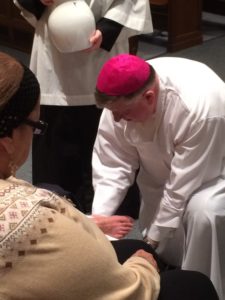 Bishop Rozanski added that at the Last Supper, Jesus gave the Apostles the lesson of presence and how to be humble, in a way of the master becoming servant. The bishop reenacted that act of service, washing the feet of twelve parishioners from the cathedral parish community.
The St. Peter Claver Society Choir provided music for this liturgy.
At the conclusion of the liturgy, the bishop processed with the remaining consecrated hosts to the Altar of Repose in the Holy Spirit Chapel.
Members of the congregation were given a small loaf of bread as a remembrance of the special night.