April 10, 2017
San Damiano Youth Group performs Stations of the Cross
REGIONAL
Story and photos by John Thornton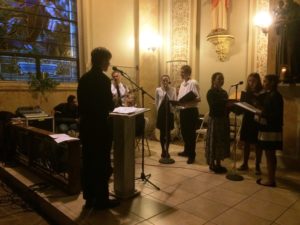 CHICOPEE – On Friday night, April 7, as the sun began to set, parishioners filled the shadowy hall of St. Stanislaus Bishop and Martyr Basilica on Front Street, here. A band under the direction of Chris Marini began to play as the San Damiano Youth Group performed "iWitness His Love: A Meditation on the Stations of the Cross."
The performers in the group, ranging in ages from late elementary school-age to college, used music and a slide show on a large projection screen to bring the Stations of the Cross to life. The band performed songs such as "Mary, Did You Know?" and "Were You There?" while three young readers recited the different stations.
Music director and group leader Marini is a parishioner at St. Stanislaus Basilica Parish and former music teacher who has been involved with the group for eight years. He told iObserve about the group's many activities within the church.
"Our youth music ministry is very active as you saw tonight," said Marini. "However, we have various other ministries such as our sandwich ministry, which works on feeding the homeless, we do gym nights with the youth, we have a youth Mass and all of the youth play a role. So, we really just engage in different aspects and utilize people's talents however we can."
Marini went on to describe what he thought the performance meant to the members of his youth group and what they took away from it.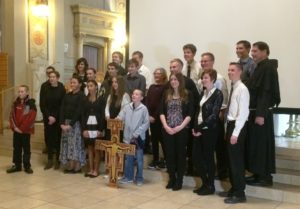 "This is a great event," explained Marini. "And it really showcases their talents and abilities. That's not the primary focus, of course. The primary focus is Christ and his sacrifice during this Lenten season, but I think they really enjoy an opportunity to go outside of our weekly youth Mass and show what they've been practicing for and I hope it shows based on how they did tonight."
Brian Kelly has been a parishioner and volunteer at St. Stanislaus Basilica for eight years. He told iObserve what he thought of the performance.
"I thought tonight's performance was beautiful," said Kelly. "It gave people here in the congregation an opportunity to look a little deeper into the Stations of the Cross and see some of the meaning a little deeper because sometimes we go through it rather quickly. This way, with the visuals from the video along with the songs and the meditations, it helps us to all think deeper on what is being presented for each station."
The tradition of reciting the Stations of the Cross began in Medieval Europe when war prevented Christian pilgrims from visiting the Holy Land. The 17 stations were written by St. Francis of Assisi and described Christ's journey to Calvary. Later, European artists began crafting intricate works depicting the stations.
The San Damiano Youth Group is open to all young people from fifth grade through college. The group is not associated with any particular religious education program, but religious education students are encouraged to participate. Parents and students interested in the group can contact St. Stanislaus Bishop and Martyr Basilica Parish for more information by calling the rectory at 413-594-6669.