April 9, 2017
Catholic convert holds workshop on promoting vocations
REGIONAL
Story and photos by Julie Beaulieu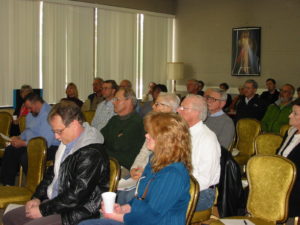 WESTFIELD — -Vocation ministers from though out the Diocese of Springfield gathered for a workshop at Our Lady of the Blessed Sacrament Parish in Westfield on Saturday, April 8.
Keynote speaker Rhonda Gruenewald, a covert to Catholicism, now runs a dynamic Parish Vocation Ministry at St. Cecilia Parish in Houston, Texas. She presented her book, Hundredfold: A Guide to Parish Vocation Ministry. A copy was given to each of the 35 people gathered for the workshop.
"It's all about giving people the tools on how to promote vocations at a parish, how to pray for them, how to affirm vocations, how to affirm their priests and sisters, and how to get in touch with the youth," said Gruenewald.
Gruenewald, a former high school teacher, said that the Holy Spirit guided her into this new career of promoting parish vocation ministries.
"The goal is to energize them to go back to their parishes, to find other people to help them in their mission to build this culture of vocations. You have a great thing happening here in Springfield because everyone has been appointed by his or her pastor. Most of the places I go across the nation, less than 20 percent of parishes even do anything at all to promote vocations. To have 80 percent of your parishes here today is huge. I've never seen that before. So, your bishop and your vocations director are on the right track," said Gruenewald.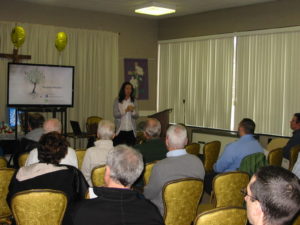 She added how wonderful it was that the diocese has a special eucharistic adoration chapel where people can pray for vocations, located at Christ the King Parish in Ludlow.
Father Gary M. ailey, director of vocations for the diocese, recalled having a recent conversation with Springfield Bishop Mitchell T. Rozanski.
"We felt that it was very important to get lay people involved in the area of vocation ministry, speaking about vocations, praying about vocations and having various activities in the parish that would assist young people in discerning a call to vocations. So, that's how this day came about," said Father Dailey.
"The statistics tell us that in order for us to maintain the number of priests that we have now, which is just under 100 active priests in the Diocese of Springfield, we need to ordain three men a year," he explained. Father Dailey added the church needs women to answer a call to vocations as well.
"Women are very, very important in the church. They have the specific role of bringing the face of Jesus Christ to people in various fields. There are so many opportunities for women in religious life," he said.
He went on to share a story of how the sisters in his home parish and Catholic school encouraged children every day in the classroom, and prayed for them often, to discern a call to vocations.
One couple at the morning workshop, Mr. and Mrs. Gerry Solitario, have a son, Brother John Mark Solitario, in the seminary to become a Dominican Friar.
"When Mark was about twelve, he started serving in the Dominican Monastery in West Springfield. He had a lot of nuns praying for him and that's the order that he entered," said Gerry Solitario.
Solitario will also be ordained a permanent deacon on May 20.
World Vocations Day is May 7.
For more information on Gruenewald's presentation, log on to vocationministry.com.