April 7, 2017
Parish nurses' group sponsors program addressing substance abuse
REGIONAL
Story and photos by Julie Beaulieu
FEEDING HILLS – "Heroin is currently $3.00 a bag (approximately one gram) on the streets," said Officer Brian McCain of the Springfield Police Department, who spoke at a substance abuse information session held at the Sacred Heart Parish Center, here, on April 5.
The event, titled "The Journey of the Substance Abuser," was the second of two sessions sponsored by the parish's St. Camillus Guild.
Officer McCain said that more people with an opioid addiction are turning to illegal heroin because it is now cheaper and easier to get. He added that the Springfield Police Department responds to drug-related calls on a daily basis, emphasizing that opioid addiction is an epidemic in all of western Massachusetts.
"Some of the hardest calls we receive involve kids," said Lt. Frank Matuszczak of the Agawam Fire Department.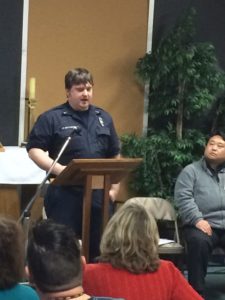 "Usually they are younger teenagers that just got involved in it (drug use), and, unfortunately, the parents usually find them the next morning (non-responsive). That can be kind of tough. Now we're dealing with the parents as well, and the parents are, obviously for good reasons, completely distraught. Hopefully, we get there in time where we can do something and save the child," said Lt. Matuszczak (in photo at right), who added that the Agawam Fire Department can respond to several calls a week, and that drug use and opioid addiction is in every community.
The rest of the panel included, Carolynn Meuse, a registered nurse; Amy Letson, program director of clinical stabilization services at Providence Behavioral Health Center; Billy Day, a mental health counselor; Rev. Stanley Kim of the pastoral care department at Mercy Medical Center; Joanne Sullivan, a grief specialist for Forestier Funeral homes; and Kate Phelon, parent of an addict in recovery.
Officials advised that most city and towns now offer a safe drop-off for needles and unused prescription drugs. For more information, call the non-emergency number of your local police department.
The session was well-attended, with some families returning from the session offered in May 2016, "When Saying No Isn't Enough: Finding Strength as a Family to Prevent Substance Use."
After the panel discussion, youth and adults broke off into separate groups for a question and answer period.
A video version of this story will be featured on an upcoming edition of "Real to Reel," which airs Saturday evenings at 7 on WWLP-22NEWS.