March 18, 2017
Cursillo plans gala to celebrate 50th anniversary in the diocese
REGIONAL
Story and photos by Carolee McGrath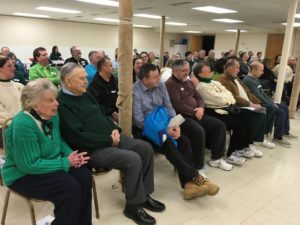 HOLYOKE – Wearing green and St. Patrick inspired smiles, more than 70 people gathered at the parish hall of Blessed Sacrament Church in Holyoke on March 17, for the monthly Ultreya meeting of Cursillo. The Cursillo Movement is celebrating 50 years in the Diocese of Springfield. Even on an evening when many were celebrating St. Patrick's Day, this group came together in prayer, as they do every third Friday of the month for Ultreya, which is a Spanish word meaning "onward."
"After you make your weekend, you come to Ultreya and it's a way to get back together with the community. We have readings of the day. Usually one of the deacons will give a homily and we always have a fourth day speaker that shares their walk with Jesus," said Rose Lopez, who made her Cursillo retreat weekend in 1995.
Cursillo, an international lay movement, was founded in Spain in 1944. The first Cursillo retreat was held in Springfield in July of 1966. Cursillo focuses on prayer, study and action, with the goal of bringing people closer to Christ and encouraging them to share his love with others.
In order to attend a retreat, another person who made Cursillo must sponsor a participant. There are separate retreats for men and women. Ultreya meetings and prayer groups are the follow-up to the retreats.
"If you know anything about Cursillo, we have snacks afterward because Cursillo is wrapped around food," Lopez joked. One of the members brought Irish soda bread to share after the meeting.
Last summer, Cursillo of Western Massachusetts kicked off the jubilee celebration with a picnic. The group has also hosted other events throughout the year.
"In September we had a day of reflection. In November we had a memorial Mass for deceased members of Cursillo. All year long we have had different activities," said Linda Menard, a member of Our Lady of the Cross Parish in Holyoke. She added, Cursillistas, or those who have made their retreat, also came together to support different charities throughout the year including Bethlehem House in Easthampton, the Springfield Rescue Mission and Birthday Wishes.
They will close the jubilee year with a gala scheduled for Saturday, May 6 at St. Catherine of Siena Parish in Springfield. Menard said 4,000 people have made the Cursillo retreat in the diocese in the last 50 years.
"It's just a loved filled movement," Menard said.
Andrea Brunault McGuiness made her retreat in 2013.
"For me it was about joining a community because my faith was already strong, but I wanted to be with people like me," said McGuiness, who also belongs to Our Lady of the Cross Parish.
"It's an introduction to get to know Jesus in a more personal way," she said. "For people who grew up in the church or were away from the church sometimes they have the knowledge about Jesus. But this is a way to take that into a more personal experience so it can go from their head to their heart."
For more information about Cursillo of Western Massachusetts, log on to www.cursillowmass.net.