March 17, 2017
Bishop Rozanski celebrates St. Patrick's Day Mass at Springfield church
REGIONAL
Story and photos by Julie Beaulieu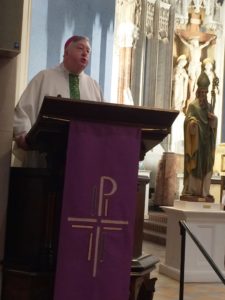 SPRINGFIELD – The feast of St. Patrick celebrations in Springfield began with a 9 a.m. Mass celebrated by Springfield Bishop Mitchell T. Rozanski at Sacred Heart Church on Chestnut Street.
Concelebrants for the Mass included Msgr. Christopher Connelly, diocesan vicar general; Father Michael Wood, ecclesiastical secretary; Father Robert White, pastor of Our Lady of Mt. Carmel Parish in Springfield; and Deacon Leo Coughlin.
Maureen O'Connell, event organizer, said this Mass has been celebrated at Sacred Heart Church for the past seven years, welcoming the city's colleens, public officials, public servants, award recipients and parade committee members.
Bishop Rozanski lightheartedly opened his homily by saying, "I think there will be more green worn today in western Massachusetts, than all of Ireland."
He went on to discuss how many Irish immigrants came to settle in the North East, highlighting two points.
"First of all," said Bishop Rozanski. "If we look back at the history of the Irish in the United States, we will find that those who came to this country from Ireland really did not rest on their bones, but rather, they gave their lives in service, whether it was in the police departments, the fire departments, the governments, the church, whatever sector of society that the Irish could give service, they certainly rolled up their sleeves, and endeavored to do so with all of their hearts," said Bishop Rozanski.
"Secondly, I wish to point out that the Irish people have given to us a very particular sense of justice, of thirsting for righteousness, of knowing what is right for the common good off all," said Bishop Rozanski.
This year's grand colleen, Jillian Murphy, a senior at East Longmeadow High School, said that her Catholic faith has always been an important part of her life.
"I'm a parishioner at St. Michael's (East Longmeadow) and I was confirmed there last year. My faith is really important to me. It's a huge part of who I am," said Murphy, who comes from a long line of colleens, including two aunts and a sister. "It taught me the importance of family and gave me a lot a values that I have today. It's such an honor to get to represent my Irish heritage, my faith, and the city of Springfield."
Maggie Rosemond, a senior at Longmeadow High School is on the colleens' court.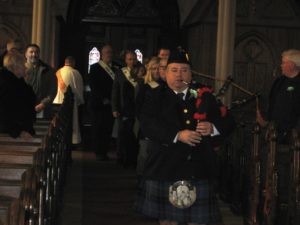 "I have Irish step-danced since I was in second grade so I have loved spending time with-in the Irish culture. I currently am an altar server and junior lecturer at Holy Name Parish in Springfield. It's a huge part of my life. It has helped me practice community service and to live by a mind-body-spirit code," said Rosemond.
Colleen Court member Lily O'Connor is also a senior at Longmeadow High School, studied Irish step dancing and works at the Our Lady of the Elms College Irish Cultural camp.
"I'm beginning to learn Irish Gaelic, so being Irish is really a big part of who I am," said O'Connor.
O'Connor, a parishioner at St. Mary Parish in Longmeadow, is active in music ministry and also a volunteer religious education assistant. Other court members include Lauren O'Neil and Hannah Tarpey.
Edward Casey is the 2017 parade marshal. Other honorees included Patrick Sullian, recipient of the John and Agnes Burke Award and Susan O'Sullivan Keenan, recipient of the Paul G. Caron Award. This Mass was offered in remembrance of Michael Rancitelli, former parade committee member.
Following the Mass, a flag raising ceremony was held at Springfield City Hall, where the Irish flag is being flown along with the American flag. Both Irish and American national anthems were sung. The Springfield grand colleen and her court will ride on the float Sunday in Holyoke's annual St. Patrick's Parade.