March 14, 2017
The Gray House holds 26th annual spaghetti supper, honors food pantry volunteers
REGIONAL
Story and photos by Julie Beaulieu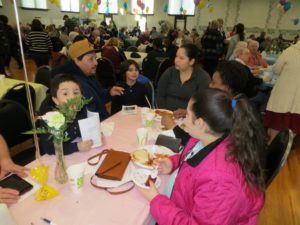 SPRINGFIELD — Hundreds attended The Gray House, Inc. annual Spaghetti Supper on Monday, March 13 at the Greek Cultural Center in Springfield.
"I'm very happy to be here with my second family," said Gray House client Karla Revera, of the evening's social event.
Referring to Glenn Yarnell, program director of adult education at The Gray House, Revera said, "He's helped me with my writing, and my spelling. And they help my kids with their homework. I take class with Glenn every Friday. If I got any problem in my job, in spelling or writing, I can call him.
"About my daughters, I can say they got good grades and are doing good at school," said Revera, who has been a client for four years, utilizing English classes and the Kid's Club after-school program for her two children.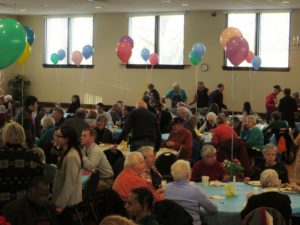 "My favorite part is when we (Kid's Club) are together," said her daughter, Aida Reyes. "They help us with homework, snack time. They give us healthy snacks. Field trips are sometimes to reward us for what we do and for our entertainment. We go to beaches, museums, we go fishing. We go to Bright Nights in Forest Park," said Reyes.
Since all clients are living at, or below, the poverty line, Kid's Club gives opportunities to these children that their parents could not otherwise afford.
"We have a food pantry, which operates every week on Thursdays, and serves about 80 to 120 families each week," said Teresa Spaziani, executive director of The Gray House.
"We have our adult education program. That program has about 120 students from over 30 different countries, a lot of whom speak very little, or no, English," said Spaziani. "And, we have our after-school program, where we work on homework with the kids. We do some educational and enriching activities with them, and also provide them with dinner."
"This is our twenty-sixth annual spaghetti supper. We always have a great turnout, usually around 400 people. We are excited to have them all here," she said. "It's really an opportunity for us to talk about what we do at The Gray House, for them (donors) to get to see the people that we serve and where there money is making a difference. The money that we raise, through the tickets, the raffle and, especially the sponsorship, it makes up for about 10 per cent of our annual budget."
Spaziani added that monies from the Annual Catholic Appeal also make up approximately 10 percent of their budget. All proceeds help The Gray House provide food, educational services and youth programming to  many in Springfield's North End.
This year's $1,000 platinum sponsors include Alekman DiTusa, LLC, Freedom Credit Union, Peoples Bank and Springfield Chapter of UNICO National. People from these organizations attended the spaghetti supper, as did many Sisters of St. Joseph and Springfield Mayor Domenic Sarno.
At the spaghetti supper this year, The Gray House  honored its food pantry volunteers.
For more information about the organization and its programs, visit GrayHouse.org.