March 4, 2017
Bishop Rozanski delivers homily at funeral of Brian Odiorne
TwitterFacebook SPRINGFIELD — The following text is the homily delivered by Springfield Bishop Mitchell T. Rozanski at this morning's funeral […]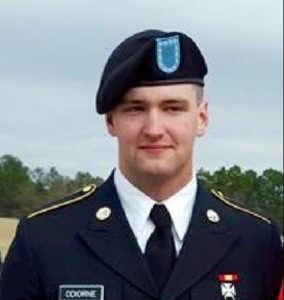 SPRINGFIELD — The following text is the homily delivered by Springfield Bishop Mitchell T. Rozanski at this morning's funeral for Army Private First Class Brian P. Odiorne, 21, at All Saints Church in Ware. Odiorne died Feb. 20 in Al Anbar Province, Iraq, while supporting Operation Inherent Resolve.
Homily for the Funeral of Brian Odiorne
Saturday, March 4, 2017
All Saints Church, Ware, Massachusetts
Isaiah 25: 6-9
John 3: 1-2
John 14: 1-6
With Brian's mom and dad, Sharon and Duayne, his brothers, Kevin and Kyle, his grandmothers, Jeanne and Loretta, and his grandfather, David, we gather here at All Saints Church in Ware, Brian's beloved hometown, to give thanks to God for Brian's life, his courage in choosing to serve our country in the United States Army and his willingness to leave this town to go across the world to bring peace and stability to a war-torn land. Brian's death, at such a young age, when he was just starting out in life, leaves us with a sense of shock and questioning where is God in all this? Our Scripture readings that we have just heard help to give us comfort in our sorrow and hope in the promise of eternal life. 
No matter how many years we are given to journey through this life, in faith we believe that we are all created by God and destined ultimately to live with God forever.
Our first reading is from that great prophet, Isaiah. Throughout his lifetime, Isaiah had to continually remind the people of God's vision for them, especially when they became discouraged and overwhelmed. Isaiah speaks of that presence of God, in their minds, particularly found at the mountaintop, where God brings the fullness of life to His people. Yet, Isaiah expands on that vision, reminding them that only God can provide for all that they need. And ultimately, God will even take away their fear of death, their mourning and the trials of this world. Isaiah reminds God's people that even when they think that God is far from them, He is ever close, particularly when they experience suffering and loss. Isaiah's words reach us today, with the same assurance with which they were first proclaimed to the Hebrew people so many years ago.
When Brian was a little boy, he loved to pretend that he was a super hero, he liked to wear costumes of Batman, Superman and Spiderman, going about saving the world from its villains.  It was a part of him from his youth, having that desire to make the world a better place. He lived that in playing football, his favorite sport, in baseball and basketball as well. Brian loved being a team member, working together with others toward a goal, whether that was winning games or being part of the Army, which he joined soon after high school. Whether in the fields of football or baseball, or on the court in basketball, or in the field of service to his country, Brian knew the importance of being a part of the team. From wearing those costumes of super heroes as a little boy, to proudly donning the uniform of the United States Army, Brian was living his dream to make the world a better place, to bring light to the darkness. He was willing to put his own life on the line so that others could live in freedom and dignity. We gather here praying for Brian, that the dreams he had as he journeyed with us may someday become a reality for all of our world, whether we are in Ware, Massachusetts or in a desert of Iraq.
Our Gospel reading today is taken from St. John. It portrays a very poignant scene is Jesus' life.  His disciples are walking with Jesus on the journey toward Jerusalem. Jesus is calm, but his disciples are starting to sense that something will happen when they arrive into the Holy City.
Of course, Jesus is approaching His own death, when He will embrace the cross and all its sufferings so that we may have life. Jesus' words, spoken to His disciples, are words that ring so true today as we pray for Brian. "Do not let your hearts be troubled. You have faith in God, have faith also in me." Today, our faith may be shaken as we mourn Brian's passing. Our hearts ache that we have lost someone so dear. 
But Jesus' words assure us that He himself did not turn away from that journey to Jerusalem, out of love for Brian and for all of us. Because he continued on that journey, we can gather here knowing that, while Brian's earthly life may have ended on February 20th, his time with God has begun in eternity. 
Whether playing the superhero as a young boy, or joining the Army, we are reminded by John's words in our second reading who Brian really is. "See what love the Father has bestowed on us that we may be called the children of God. Yet so we are." For 21 years in this world, as a son, brother, grandson, athlete, friend, Brian was called to be a child of God. He still is a child of God, with the promise that Jesus has given to us of eternal life. "Beloved, we are God's children now, what we shall be has not yet been revealed. We do know that when it is revealed we shall be like him, for we shall see him as he is." 
May Brian, a child of God, as we all are, know the promise that is given to him and to all of God's faithful ones, the fullness of God's presence in eternity and may Brian's family, friends, teammates and fellow members of the Army know the comfort and hope of God's promise to Brian fulfilled.