March 3, 2017
OBITUARY:  Sister Inez Ferrari, 88; taught at Mater Dolorosa School
REGIONAL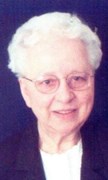 WORCESTER, Mass. – Venerini Sister Inez Ferrari, 88, died at the Jewish Healthcare Center in Worcester on Wednesday, March 1.
She was born in North Adams to the late Frank and Maria Rosa (Cunico) Ferrari. She joined the Venerini Sisters in 1946 and was professed in 1948. She graduated from Sacred Heart Academy in Worcester. She earned her bachelor of arts degree at Anna Maria College in Paxton, Mass., and a master's degree in education at Boston College. She also attended international conferences in ESL, ecology and the environment.
She taught in many schools in the Worcester and Springfield dioceses, the greatest number years being in the Worcester Diocese at St. Anthony's in Fitchburg and Venerini Academy in Worcester. She taught science at Mater Dolorosa School in Holyoke from 2000 to 2004. She also was principal at various schools as well as the provincial of the Venerini Sisters.
Besides her religious sisters in the Venerini Congregation, she leaves her sister, Elena Ferraro, of Holden, Mass., as well as cousins in the USA and Italy. She was predeceased by her brother, Joseph.
Calling hours will be held in Brandon Funeral Home, 305 Wanoosnoc Rd., Fitchburg on Sunday, March 5 from 4-7 p.m. A Mass of Christian Burial will be held at 10 a.m. on Monday, March 6 in St. Anthony Church. Burial will follow in St. Bernard Cemetery.
In lieu of flowers, donations may be made to the Venerini Sisters Retirement Fund, 374 Main Street, Rutland, MA 01543.