March 3, 2017
Loaves and fishes: Students multiply donations in 'Pay it Forward' project
REGIONAL
Story and photos by Sharon Roulier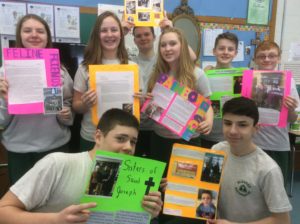 HOLYOKE – A group of eighth grade students at Blessed Sacrament School, here, received a lesson on how to use their gifts and talents to help others in need while taking part in a class project assigned by their religion teacher, Sister of St. Joseph Jeanne Branchaud.
The project involved 27 students, 27 ten-dollar bills and one generous teacher with an idea to "pay it forward."
In the 2000 film "Pay it Forward," starring Kevin Spacey and Haley Joel Osment, a social studies teacher begins a charitable program based on the networking of good deeds.
After her students watched the film in class, Sister Branchaud, an eighth-grade religion teacher, handed each student a 10-dollar bill with an assignment that read, in part: "You are being given $10 to start your project. I believe in the goodness of each of you and am trusting that you will use this money wisely. The money I am giving you is my Christmas money, so I am taking a risk; however, to promote growth we often have to take risks and entrust others with our 'treasure.'"
Sister Branchaud went on to instruct the students to match this money with $10 of their own, find a local cause or organization that would benefit from the funds, and "pay it forward" by donating to the organization.
"I was inspired to use my Christmas money because I felt like I needed to put my money where my mouth was when I'm telling them that they should go out and do things and pay it forward," said Sister Branchaud, in an interview with Catholic Communications.
The results were astounding.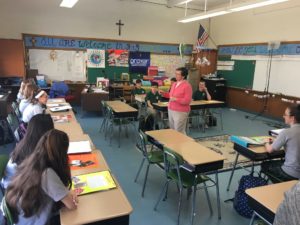 "Loaves and fishes – they multiplied it. They went far beyond my wildest imagination," said Sister Branchaud.
The class of 27 students and the school secretary raised more than $2,500.
"That was all on their own generosity through their own hearts and their own willingness to give," she said.
The assignment included visiting the organization they chose to help, taking a picture when they presented their donation and finding out how it benefits the community.
One student, Matt Dulude, chose to add in an extra $30 of his own money on top of the $10 from Sister Branchaud. He went to the headquarters of the Sisters of St. Joseph in Springfield to meet with Sister of St. Joseph Maxyne Schneider to explore exactly where his funds were most needed.
"I met with the president and two other sisters and we were talking and they ended up saying they were going to double, thinking I only brought $20 but when they realized I had brought $40 they all just put $20 in," said Matt. With the combined total of $100, the sisters recommended that Matt donate the money to help a student at Homework House in Holyoke.
Other students visited and donated to agencies and services like Bethlehem House, Kate's Kitchen, Jericho, the Salvation Army, and the American Cancer Society.