February 23, 2017
Catholic Extension's Lenten digital journey a spiritual trip across U.S.
NATIONAL
By Catholic News Service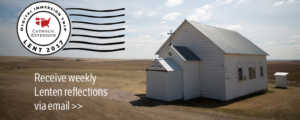 CHICAGO (CNS) — This year during Lent, Catholic Extension — a Chicago-based national fundraising organization that builds churches and the Catholic Church in America's poorest places — is inviting Catholics to come along on a 40-day spiritual journey across the United States for Lent.
Starting March 1 and culminating on Easter Sunday, Catholic Extension will take its followers on a digital immersion trip that will crisscross America and visit nine dioceses in remote and poor areas of the country. Each stop, from the U.S.-Mexico border in Texas to the Canadian border in Montana, "will feature Catholic leaders who are transforming lives and communities through the power of faith," said a news release about the trip.
Participants will receive a weekly reflection written by an inspiring Catholic leader and stories that offer a glimpse into the truly transformational work being done in some of the most unexpected places of our country where the Catholic faith is thriving.
Those who wish to participate can sign up to receive emails at www.catholicextension.org/lent.
About 1,000 people have already signed up to participate. Catholic Extension said the journey "will allow for a deeper spiritual experience" during the season of Lent by focusing on the Lenten practices of prayer, fasting and almsgiving.