January 8, 2017
Harlem Superstars talk hoops and life, in slam dunk performance in Pittsfield
REGIONAL
Story and photos by John Thornton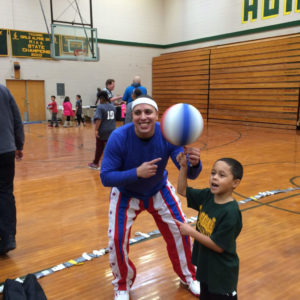 PITTSFIELD – On the morning of Saturday Jan. 7, a large group of students gathered at Taconic High School in Pittsfield, not for Saturday detention, but to shoot some hoops with real life "Harlem Superstars," thanks to the St. Mark Parish Community Outreach Program. Superstars Kevin "Showboat" Jackson and Kenny "Blenda" Rodriguez (shown at left) offered skills clinics for children, danced and exercised with them and performed some signature tricks with music provided by DJ "Master of Sounds" Eddie Brown.
Father David Aufiero is the administrator of St. Mark Parish in Pittsfield.
"A number of students in my CCD program come to this great school. Back in October, I met Kevin 'Showboat' Jackson," Father Aufiero explained. "We got to talking and he told me about all of the great camps that he was doing for youth. I was so inspired by what he was doing that I invited him to come to my church and he showcased some of his moves for my parishioners. We then exchanged numbers and planned for him to come up and perform for my students."
Kenny "Blenda" Rodriguez, one of the Harlem Superstars told IObserve about his background. "I was born and raised in Washington Heights, New York," said Rodriguez. "I attended community college in New Jersey and I toured with the world famous Harlem Globetrotters from 2007 until 2012. I've appeared on TV shows such as 'Celebrity Apprentice,' 'Jon and Kate Plus Eight' and you might have also seen me on 'Sesame Street' hanging out with Elmo."
After their performance Rodriguez and his co-star Jackson (shown bottom right) both had a positive message to give to the more than 250 children and their families who were in attendance
"My message to the kids is to always believe in yourself," explained Rodriguez, "Because you can accomplish anything that you want in life. Just surround yourself with positive people and everything will work out."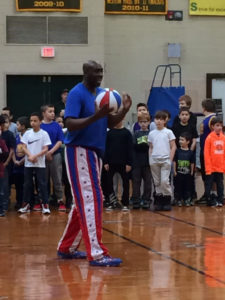 "Don't tease or bully your classmates," Jackson told the crowd. "Each and every one of you come to school to get an education and each and every one of you are special in your own way. So always remember that."
While not definite, there are plans in the works to have the Harlem Superstars return to the area next year.
A video version of this story will be featured on an upcoming edition of "Real to Reel," which airs Saturday evenings at 7 on WWLP-22NEWS.